WEA Series Slew Drive
WEA series slewing drive is a new series of slewing product, also named as slewing reducer. It is commonly composed of worm, slewing bearing, housing, motor adapter, end cap and other components. By adopting slewing bearing as its core component, slewing drive can bear axial force, radial force and tilting moment simultaneously. Comparing with SE series slewing drive, WEA series have the advantages of better protective performance, great transmission torque, better impact resistance and long service life.
Application
WEA series slewing drive is widely applied in the relatively rotary parts of machinery and solar energy field, including solar tracking system, rotary chassis of aerial working machinery, truck crane, rock drill, drilling machine, grasping wood machine.
Specifications
Model
WEA9
WEA12
WEA14
WEA17
WEA21
WEA25
Rated Output Torque
(KN.m)
8
9.5
10.8
12.96
28.7
34.2
Tilting Moment Torque
(KN.m)
33.9
54.3
67.8
135.6
203
310
Static Axial Load
(KN)
550
725
920
1110
1595
1850
Static Radial Load
(KN)
205
270
343
414
596
690
Dynamic Axial Load
(KN)
130
180
220
268
340
440
Dynamic Radial Load
(KN)
110
140
190
220
270
320
Holding Torque
(KN.m)
38.7
43
48
72.3
105.8
158.3
Gear Ratio
62:1
79:1
86:1
104:1
90:1
104:1
Output Speed
(rpm)
<3
<3
<3
<2
<1.5
<1.5
Slef-locking Gears
Yes
Yes
Yes
Yes
Yes
Yes
Weight
(kg)
53
66.8
75
96
172
202
Download PDF
Our product range includes precision bearings in dimensions from Ø 100 mm to Ø 1490 mm.
Code Method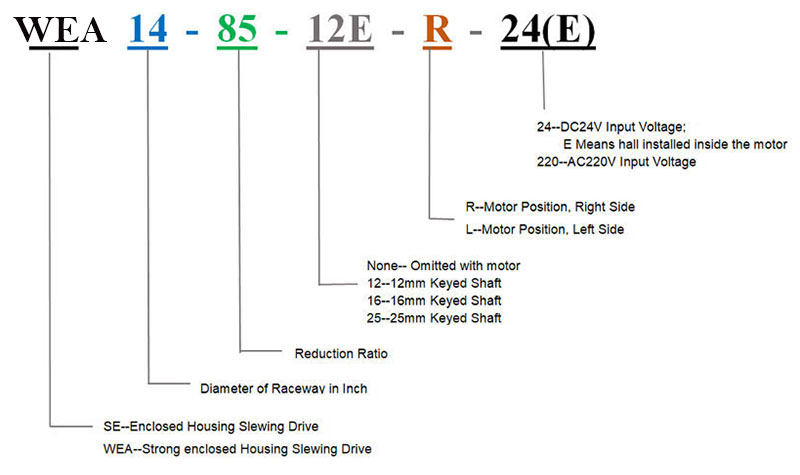 Installation Method
Horizontal Installation

In solar applications, it is recommended to mount the slewing drives upside down on the azimuth axis for better protection and to add protection for the elevation axis.
Tags
Industrial slewing drives
heavy-duty slew drives
slew drives for engineering machinery
mechanical components
slew drives manufacturing
LYJW is a professional manufacturer of slewing bearings and we can design and manufacture slew ring bearings, precision bearings, slew drives and custom bearings for construction, engineering, mining, marine, chemical, military, wind turbine, medical equipment, and many other industries.
By virtue of expertise team, advanced manufacturing technologies and strict quality management system, LYJW takes the lead in the R&D of slewing bearings, which are designed with reasonable construction, light weight, good load carrying capacity and high versatility. The bearings' diameters range from 200 to 15000mm and the accuracy covers PO, P6 and P5 class. Now, we can manufacture CCS, ABS, BV, GL and other certified bearings.
We adhere to the business principle of "Quality and Integrity" and we'll keep providing outstanding bearings and superior services to serve global customer.